A feature documentary about Nikola Tesla's discovery the Earth produces an unlimited reservoir of naturally-sustainable energy and the system he invented to harness it to provide this infinite, non-toxic and renewable resource for the shared benefit of all humankind.
What Nikola Tesla discovered is a natural form of electricity produced by the spinning earth, within stars, in the cosmic vacuum of space, and Tesla found a way to produce it with his invention known as a 'Tesla coil'.
The film follows the events in Tesla's life, and reproduces the groundbreaking experiments that led to the discovery he called his 'greatest achievement'. Independent scientists and engineers provide solid scientific evidence to confirm it. In the process PICTURES OF INFINITY reveals the soul and spirit of a true scientist and humanitarian whose passionate quest for knowledge was always at the service of humanity.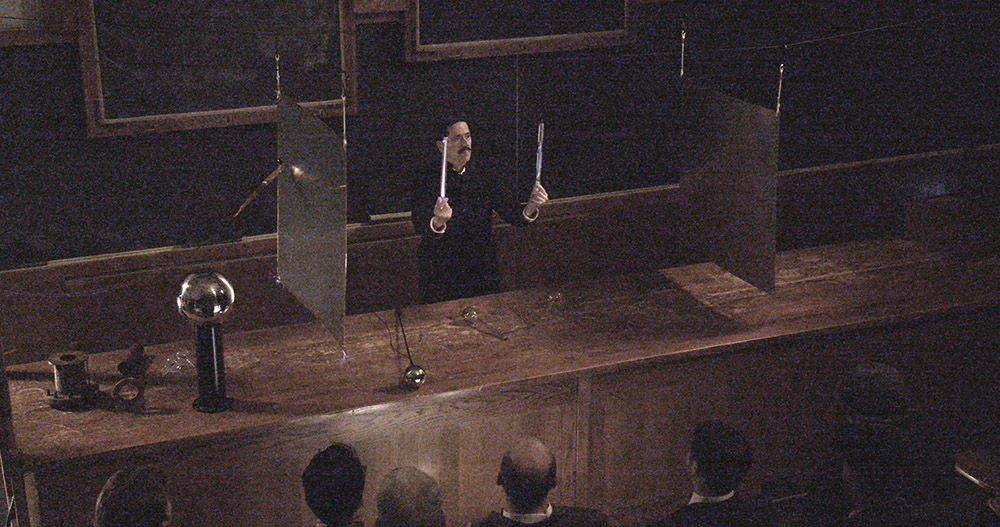 Still from Pictures of Infinity: Nikola Tesla at Columbia University
"Helen, good luck with this project. If you do it right, it deserves all the funding it can get."
- Neil deGrasse Tyson
"Please stay in touch with me. I am eager to advise you in whatever way I can to help your production move forward. The subject matter is of enormous importance to humanity"
.
-
Dr. Eugene Mallove
BY VIRTUE OF ITS FISCAL SPONSORSHIP through From The Heart Productions Inc., donations made to PICTURES OF INFINITY are tax-deductibe, to the amount and extent allowable by law.
Please join us on our quest to make PICTURES OF INFINITY!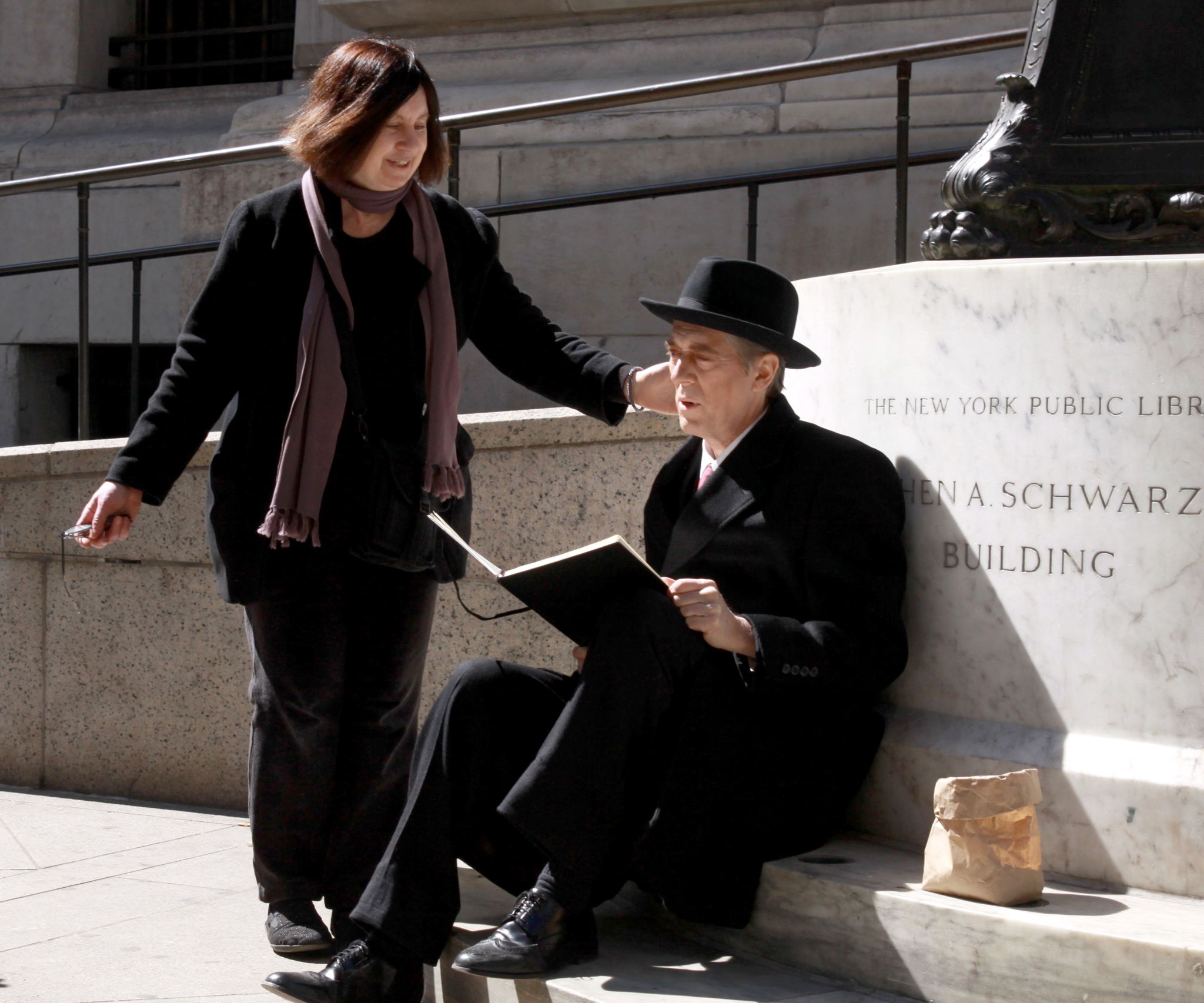 Behind the Scenes: Helen Hall and Allen Enlow (as Nikola Tesla) in NYC
CREATIVE TEAM
Helen Hall
- Director, Producer, Composer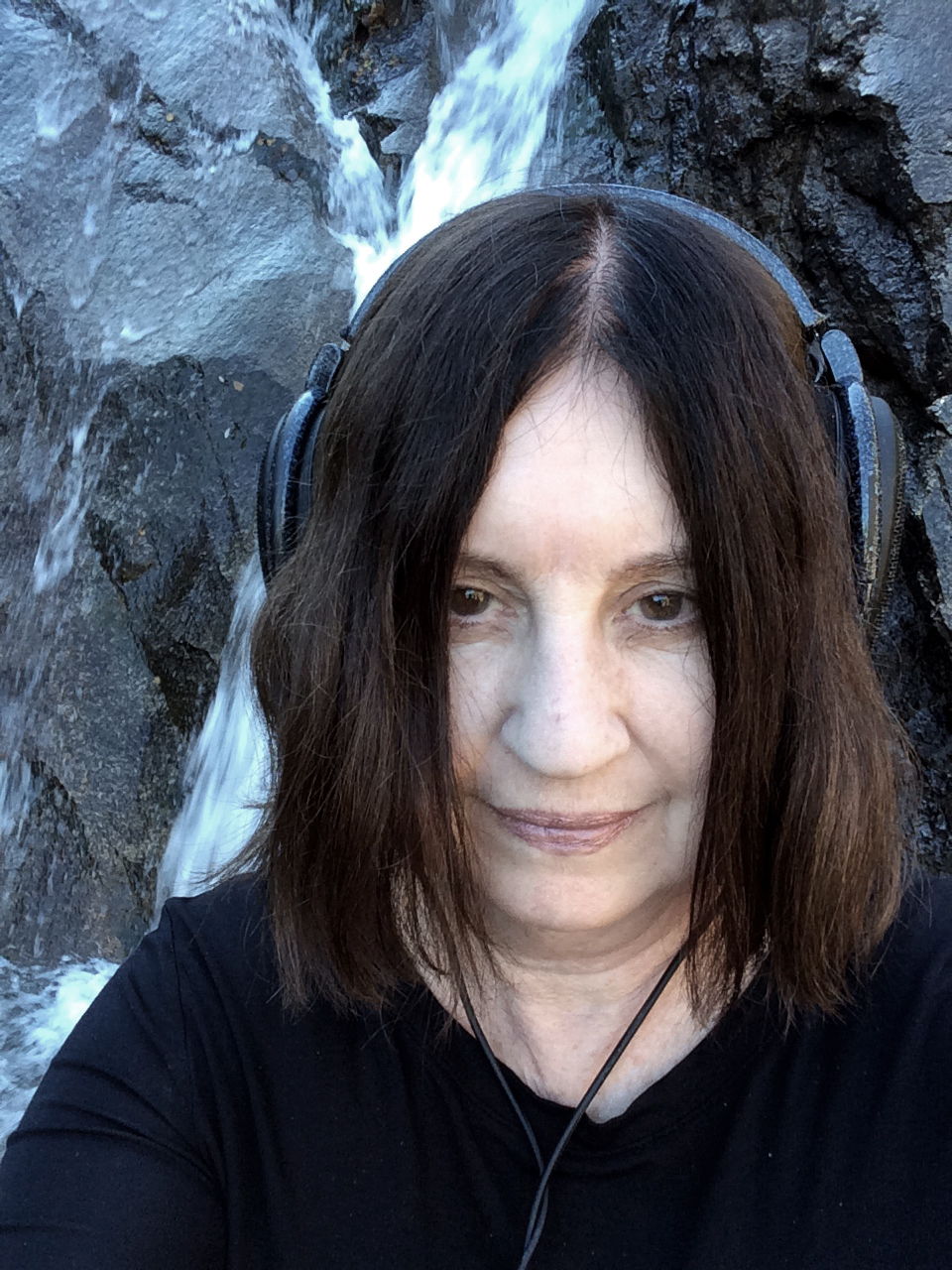 Helen Hall first entered the world of filmmaking with POWERLINES, a documentary about the mystery of electromagnetic fields (which began as a musical score based on the sound waves of electromagnetic radiation). POWERLINES premiered at the Vancouver International Film Festival in 1998 and won the International Jury Award at the International Festival of Films on Energy in Lausanne, Switzerland in 1999. The film has been featured in books and magazines (Design Noir, Anthony Dunne, UK; Musicworks, Toronto). The soundtrack has been released independently on CD. Helen's music has been featured on CBC Radio's Two New Hours, Radio-Canada's Musique Actuelle, Le Festival International de Musique Actuelle de Victoriaville (Quebec), The Scotia Festival of Music (Nova Scotia, Canada), New York's Bang on a Can, Sonic Disturbance Festival of Sound in Ohio and the Subtropic Music Festival in Florida, and in prestigious venues such as Merkin Concert Hall in New York. Her music is published by Da Vinci Edition in Japan.
Helen and PICTURES OF INFINITY have received support from the Canadian Independent Film and Video Fund, the Canada Council for the Arts, le Conseil des Arts et des Lettres du Québec, the Department of External Affairs Canada, the National Film Board of Canada, the Flemish Government of Belgium, and the Bakken Library and Museum of Electricity in Life.
"Helen is a brilliant artist with total dedication to her art. The knowledge she has accumulated about Tesla, his life and his inventions, is vast. She is the perfect person for this monumental job of producing and directing this important film."

– Carole Dean, From The Heart Productions
Carole Dean, From The Heart Productions
Co-producer, Mentor, Fiscal Sponsor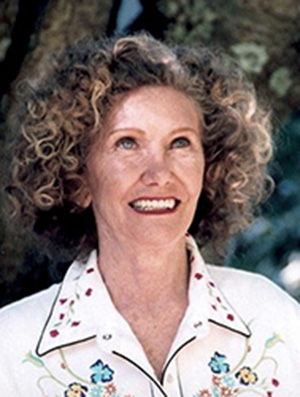 Carole is President and CEO of From The Heart Productions, a nonprofit 501(c)(3) organization dedicated to funding films that are "unique and make a contribution to society". In 1992 Carole created the Roy W. Dean Grant Foundation in honor of her late father. Carole's grant and mentorship programs have provided filmmakers with millions of dollars in goods and services and have played an instrumental role in establishing the careers of some of the industry's most promising filmmakers. She has produced over 100 television programs including the popular cable programs Filmmakers and HealthStyles, where she interviewed some of the biggest names in the industry including Dr. Deepak Chopra, Dr. Weil and Dr. Caroline Myss.
Iris Ng - Director of Photography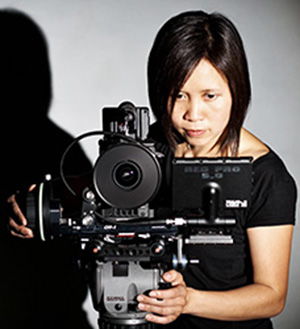 Iris Ng is a cinematographer with over a decade of experience. She has collaborated with award-winning filmmakers and artists on over 60 projects. Her credits include the multiple award-winning Stories We Tell directed by Sarah Polley, Emmy-winning Herman's House directed by Angad Bhalla, and The Ghosts in Our Machine directed by Liz Marshall. She has worked on films directed by Fredrik Gertten, Rama Rau, Min Sook Lee, Michael McNamara, Martha Burns, Fisher Stevens, Vikram Jayanti, and artists Chris Curreri, and Oliver Husain. Recently released projects include Making a Murderer, a multi-episode documentary series produced in the U.S.

Donate via Credit Card or eCheck
Pictures of Infinity FAQ
Is my donation tax deductible?
Yes, we are a fiscally sponsored project of From The Heart Productions, which is a public 501c3 organization recognized by the IRS. Your donation is tax-deductible to the fullest extent permissible by law.
WeDidIt FAQ
Is my donation and credit card info secure?
Yes, the security and confidentiality of your information is our highest priority. We will not sell, trade or share your personal information with anyone else, nor send donor mailings on behalf of other organizations, and we will only share personal information if you have given us specific permission to do so.
How do I know that my donation was made successfully?
You will receive an emailed receipt immediately after your donation is submitted and your credit card is processed. Your donation will also show up on your bank or card statement within 1-3 business days.
Do I get a receipt?
Yes, a receipt is sent to your email inbox once your donation is processed. Please be sure to keep a copy of your receipt for tax purposes. If you select a recurring donation, you will be sent an individual receipt each period when your donation is processed.
Is my donation private?
We will not share or sell a donor's personal information with anyone else, nor send donor mailings on behalf of other organizations.